The NIV Biblical Theology Study Bible contains the complete text of the New International Version Bible and is edited by D.A Carson, T. Desmond Alexander, Richard Hess and Douglas J. Moo, as well as Associate Editor Andy Naselli, who teaches at Bethlehem College & Seminary. As well as serving as an elder, he is also a member of the Bethlehem Baptist Church there.
Formerly known as the NIV Zondervan Study Bible, the Study Bible is a translation of the NIV. The Bible is constructed in such a way that its readers can gain a greater understanding of the Bible as a whole by examining individual themes and stories within it.
ON SALE NOW
NIV, Biblical Theology Study Bible, Hardcover, Comfort Print: Follow God's Redemptive Plan as It Unfolds throughout Scripture
Hardcover Book

Zondervan (Author)

English (Publication Language)
Choosing this study Bible will help you unfold the Bible, so it is a great choice if you want to study the Bible. In addition to three articles that introduce the reader to Biblical theology, it includes another 25 articles that help unpack the scriptures' key themes. There is an introduction to every book that the reader will find to be very helpful. The introduction to each section also ensures a thorough explanation of what lies ahead in one's reading journey. The reader will be able to gain a deeper understanding of different parts of scripture through additional verse by verse study notes.
Review of Biblical Theology Study Bible Videos
A list of key features of the Biblical Theology Study Bible
This study Bible's detailed verse-by-verse comments are undoubtedly one of its best features. Over 20,000 notes provide the kind of thoroughness that will make your reading experience more enjoyable. For all those passages that have always been difficult to understand, you can expect clarity.
There is a detailed concordance in this version of the study Bible. There is even more detail in this study Bible than in others.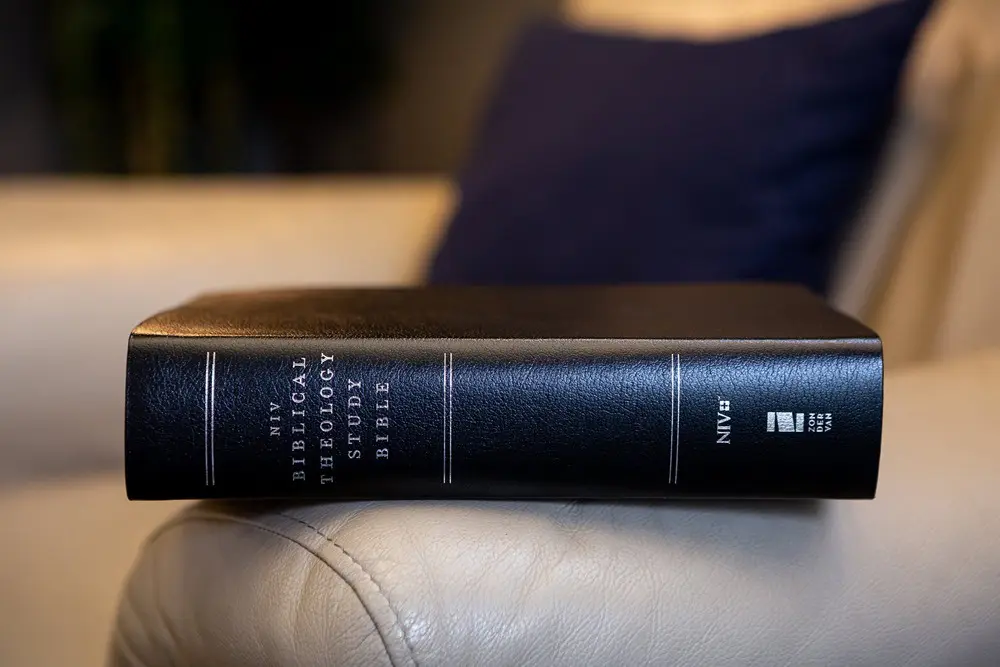 In addition to charts, indexes, and maps, the study Bible contains a dictionary. The study Bible includes detailed visual aids that make it more informative. I am amazed at how comprehensive the additional content is! As you go through the various sections of the Bible, they also help you retain what you learn.
If you compare this Biblical Theology Study Bible with its predecessor, the Zondervan NIV study Bible, you will find that both the figures and the text are identical. There has been an improvement in the way the information is presented in this version.
The newer version has a larger font, making it easier to read, while it is also easier to carry around. Because the pages are thinner and better utilized, it is lighter in weight.

Pros:
Commentaries and notes on verses

Included are practical and theological applications of passages

Passages were contextualized in historical terms

Studying with beautiful, full-color, high-resolution maps can boost your results

Comparing and studying passages with charts

The "Zondervan NIV Comfort Print® typeface" is easy to read

You can always start where you left off with two ribbon markers

The full text of the NIV

The commentary is written by reputable authors such as Kevin DeYoung and Tim Keller

Over 60 reputable contributors contributed to this compilation

Concordance and cross-references in one place

Commentaries from 2000

More than 90 maps

More than 60 charts

Introductions to books

Introductions to sections
Cons:
There is a possibility that older people will have difficulty reading comfort print for an extended period of time since it is small. You may want to choose larger prints if you can.

At 4.2 pounds, this is a little heavy to carry around. In comparison with standard Bibles.
Optional features
ON SALE NOW
NIV, Biblical Theology Study Bible, Hardcover, Comfort Print: Follow God's Redemptive Plan as It Unfolds throughout Scripture
Hardcover Book

Zondervan (Author)

English (Publication Language)
ON SALE NOW
NIV, Biblical Theology Study Bible, Bonded Leather, Black, Comfort Print: Follow God's Redemptive Plan as It Unfolds throughout Scripture
Zondervan (Author)

English (Publication Language)

2592 Pages – 09/04/2018 (Publication Date) – Zondervan (Publisher)
ON SALE NOW
NIV, Biblical Theology Study Bible, Leathersoft, Tan/Brown, Comfort Print: Follow God's Redemptive Plan as It Unfolds throughout Scripture
Zondervan (Author)

English (Publication Language)

2592 Pages – 09/04/2018 (Publication Date) – Zondervan (Publisher)
ON SALE NOW
NIV, Biblical Theology Study Bible, Leathersoft, Pink/Brown, Comfort Print: Follow God's Redemptive Plan as It Unfolds throughout Scripture
Zondervan (Author)

English (Publication Language)

2592 Pages – 09/04/2018 (Publication Date) – Zondervan (Publisher)
ON SALE NOW
NIV, Biblical Theology Study Bible, Bonded Leather, Burgundy, Comfort Print: Follow God's Redemptive Plan as It Unfolds throughout Scripture
Zondervan (Author)

English (Publication Language)

2592 Pages – 09/04/2018 (Publication Date) – Zondervan (Publisher)