Do you have a loved one who has passed away?  You're going through a divorce, aren't you?  Have you lost your job recently?  Are you unhappy with the outcome of a personal goal you set for yourself?  Looking for uplifting bible verses to help you cope with grief?
Grief is a normal phase people go through when something sad or negative happens to them. You may associate grief with death, but grief is defined by anything causing deep sorrow.  When you are grieving, you may feel depressed, physically drained, change your behavior, lose interest in socializing, and even lose your appetite.
Grief is something that everyone experiences at some point during their lives. Some people stay in this phase for a longer period of time and struggle to move on.  According to a randomized controlled trial by The JAMA Network, 30% of grievers will suffer from a complication such as major depression, post-traumatic stress disorder (PTSD), or complicated grief (CG).
If you grieve for an extended period of time, it can negatively affect you. You may become disinterested in your usual routine, avoid trying new things, or stop communicating with your friends and family as a result. It may seem impossible to overcome the pain at the moment, but with God you will succeed.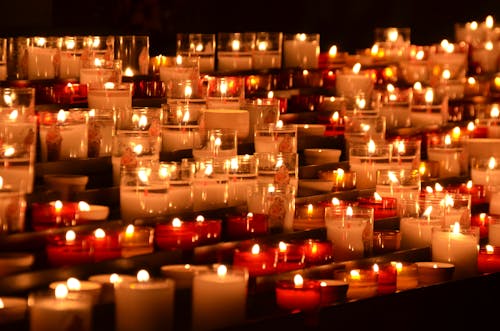 The Phases of Grieving
Especially when things are getting worse and worse, it can be discouraging in the beginning.  Grieving may even cause you to question God and shake your faith.  Any grieving person will tell you they've been there too, so don't get discouraged!
Jesus wept over Lazarus' death in the Bible, one of many accounts of grief in the Bible. In order to move on from grief, one must accept it.  Having to accept your loss, your pain, and the fact that you must move on takes acceptance.  Once the pain has subsided, healing and restoration will follow.
Seek Christian counselors, journal your pain, but most importantly trust in God's promise that He will be with you and restore you.
Top 10 Bible Verses for Grief
In addition to these 10 Bible verses about grief, here are 10 that will help you to start moving forward through the pain you're experiencing.  When we have God's Word near us, we will be able to face grief more easily.
"My flesh and my heart fail; But God is the strength of my heart and my portion forever."

Psalm 73:26, NKJV

"He will wipe away every tear from their eyes. There will be no more death, sadness, crying or pain. All the old ways are gone."

Revelation 21:4,  ICB

"I've commanded you, haven't I? Be strong and courageous. Don't be fearful or discouraged, because the Lord your God is with you wherever you go."

Joshua 1:9, ISV

"Blessed are those who mourn, for they shall be comforted"

Matthew 5:4, RSV

"He heals those who have a broken heart. He heals their sorrows."

Psalm 147:3, NLV

"

For momentary, light affliction is producing for us an eternal weight of glory far beyond all comparison, while we look not at the things which are seen, but at the things which are not seen; for the things which are seen are temporal, but the things which are not seen are eternal."

2 Corinthians 4:17-18, NASB

"We know that in everything God works for the good of those who love him. They are the people God called because that was his plan."

Romans 8:28, ICB

"Peace I leave with you. My peace I give to you. I do not give to you as the world gives. Don't let your heart be troubled or fearful."

John 14:27, CSB

"So do not fear, for I am with you; do not be dismayed, for I am your God. I will strengthen you and help you; I will uphold you with my righteous right hand."

Isaiah 41:10, NIV

"And we are not afraid but are quite content to die, for then we will be at home with the Lord."

2 Corinthians 5:8, TLB
Whatever happens, God will never leave your side. He is already standing by our side, waiting for us to confide in Him. All you have to do is seek Him out and present your pain to Him.
It is my hope that these 10 Bible verses for grief have reminded you of God's love for you and that He is in control of your life.  The journey doesn't end there!  When grief seems to overtake your life, continue reaching out to Him through prayers and study. You can find more scriptures in the Bible that will guide you and lighten up your path to happiness.
Besides sharing your load with others, another way to lighten your load is to reduce your own. It is important to reach out to your loved ones during these trying times and lean on them for support.
Top 7 Christian Books About Grieving
| | | | | |
| --- | --- | --- | --- | --- |
| | | | | |
| | | | | |
| | Walking with God through Pain and Suffering | | | View on Amazon |
| | A Grief Observed | | | View on Amazon |
| | It's OK That You're Not OK: Meeting Grief and Loss in a Culture That Doesn't Understand | | | View on Amazon |
| | Healing After Loss: Daily Meditations For Working Through Grief | | | View on Amazon |
| | Grieving with Hope: Finding Comfort as You Journey through Loss | | | View on Amazon |
| | Shattered: Surviving the Loss of a Child (Good Grief Series) | | | View on Amazon |
| | Unshakable Hope: Building Our Lives on the Promises of God | | | View on Amazon |